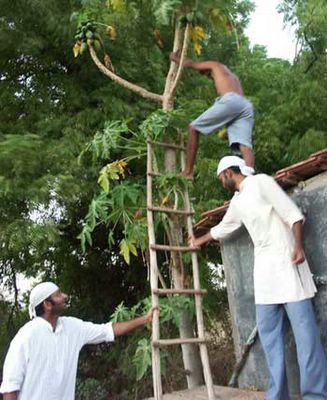 Papaya Picking
We've been walking for almost two months now and just when we think we're at the end of the rope with people to profile, we run into someone who knows a lot of interesting people. This time was no different.
Just as we were on our last contact, Anandbhai, an activist suggested several people that we should meet. Among them was Kantibhai, whose farm we're currently staying at. He's an enthusiastic young guy, who gave up city life to live in a small village and do organic farming. Kantibhai's whole ideal is that we should live "in tune" with nature. He feels, that is what is best for our bodies, our minds, and our souls.
And staying here has proven that to be true. This has been a great treat for us. None of us had ever picked our own papayas or mangoes before. He has everything you can possibly want for cooking right here in his own farm. Sleeping under the stars on a cot, surrounded by the coconut, sugar canes, and big mango trees is one of the best feelings in the world. Suddenly, there are no worries.
You go to sleep when it gets dark and wake up when the sun comes up. And the first thing you find when you look up is that there's a baby calf staring you in the face wondering what you're doing on his farm.
It's the good life and I plan to relish every moment of it. =)